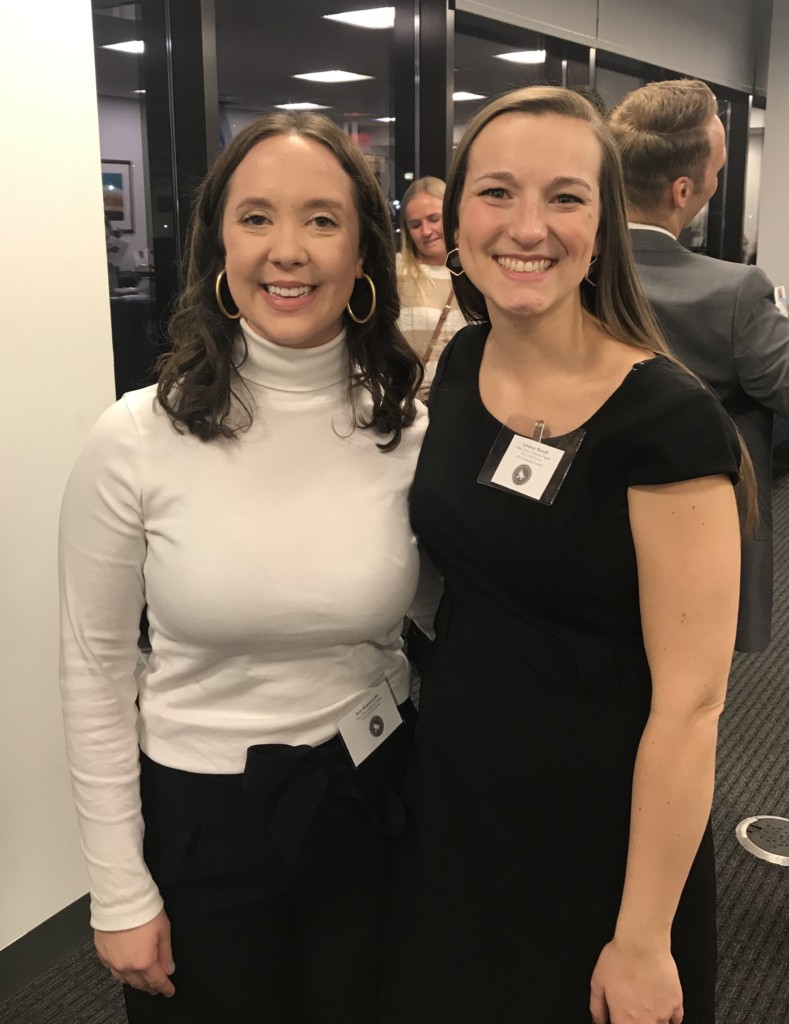 VILLANOVA, Pa. — Dressed in chic evening wear, the two law students squeezed their eyes shut for a moment as they thought hard about the question they had been asked. Then they spoke.
"We came to law school because we wanted to help people," said Lindsay Burrill, a third-year student at the Villanova University Charles Widger School of Law who will graduate later this year. "Giving people who don't typically have a voice an opportunity to be heard – that's what we want to do."
Amy Krumenacker, Burrill's classmate, quickly chimed in. "Without it, we would be deterred from the field," Krumenacker said. "It really allows us to do the work we love."
The work they love is public interest law, a branch of the law that, when practiced, is often poorly compensated but critically important to society. And the "it" they referred to is the Walter A. Lucas Public Interest Fellowship Program (PIFP) at the law school, which provides summer fellowships to Villanova Law students committed to public service legal work at, as they put it, "underfunded and overstretched" organizations throughout the country and the world.
"At its core, the legal profession is one of service," said Villanova Law Dean Mark C. Alexander. "Public interest lawyers dedicate their careers to helping society's most vulnerable and marginalized communities, providing vital legal support to those who could not otherwise afford it. Their work changes lives and betters our communities." The students in the program, he said, "represent what is so remarkable about our institution."
I was chatting with Burrill and Krumenacker at the fundraising auction they organized and staged at the law school's gleaming modern facility on Saturday evening, Feb. 22. Around us, men in beautiful dark suits and bright ties and women in sleeveless sheath dresses in a rainbow of colors sipped wine and nibbled on cheese and crackers. Alums, parents, and students bid on donated auction items ranging from wine baskets and dinners at local restaurants to sports and theater tickets. Later in the evening, two charismatic law professors, Doris DelTosto Brogan and Ann Juliano, auctioned off items like week-long vacations at the Jersey Shore and Broadway theater weekend packages, raising thousands of dollars.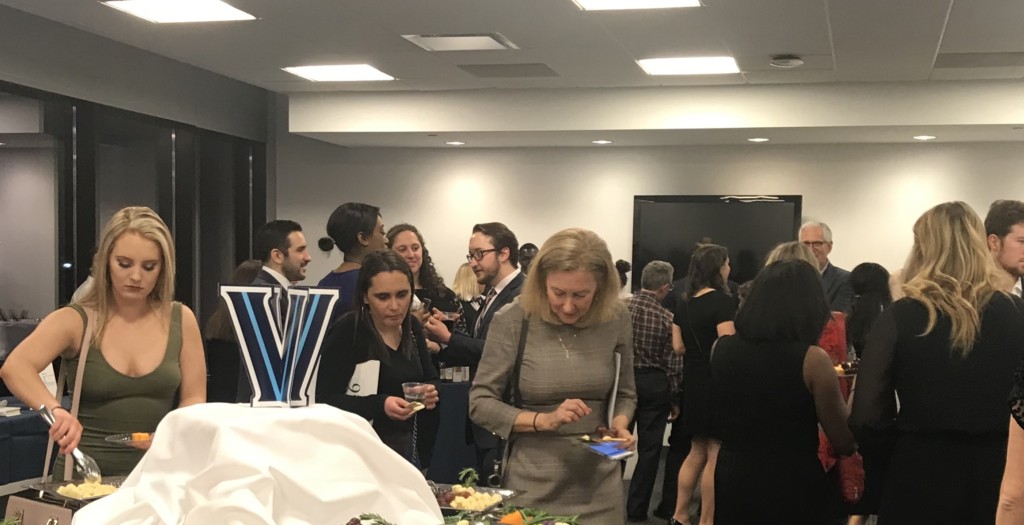 Burrill and Krumenacker serve as director and associate director, respectively, of the program. I was there because I was invited by a dear friend, Jane Lessner, Esq., a Villanova Law grad who was instrumental in seeing the program named in honor of my late husband, Walter Lucas.
"I am so happy to see what this program is doing," said Lessner, as she scanned the room and choked back tears. "And I believe it serves as a fitting tribute to Walter, whose life was dedicated to public service."
Walter was a nationally known public interest law attorney and Villanova Law graduate who died in 2004. In some ways, it makes me sad to be back at Villanova where Walter and I and our then-toddler son, Walter Jr., had so many happy times with friends when Walter was in law school. But the program is so important, I wanted to show my support. And I wanted to learn how the program is going and meet some of the students who are benefitting from its existence. I knew that would make me happy.
Through the money raised at the auction and by donations, each Villanova law student granted a fellowship receives a $5,000 stipend which enables him or her to do the kind of work in their summer job for which Walter would have been proud. Since the first auction in 1998, students and those assisting them have raised over $1 million for the program, funding 228 student fellowships and 19 post-graduate loan repayment awards.
Generally speaking, law students supported by the student-run program represent low-income people, the elderly, abused and neglected children, women and others who are victims of domestic violence, victims of discrimination, members of the LGBTQ community, people with disabilities and many other members of society needing legal advocates.
There are so many amazing organizations where students have worked, too many for me to list here. But I will name a few to give a sense of the humanity and scope of this program. The Homeless Advocacy Project. The Veterans Law Clinic at Widener Law School in Delaware. Public Defenders offices. Legal Aid societies. Innocence projects across the country defending inmates on Death Row. The Child Welfare League of America. The National Clearinghouse for the Defense of Battered Women. The Disabilities Law Project. The AIDS Legal Referral Panel of San Francisco. NY Volunteer Lawyers for the Arts. Friends of Farmworkers. The International Criminal Court at The Hague in the Netherlands. The International Justice Mission in Ghana. The federal Office of Civil Rights in Washington, D.C. The Clean Air Council. And the Nationalities Service Center in Philadelphia where students like Burrill learned about an organization that provides a wide range of services to meet the needs of newly arriving refugees, victims of human trafficking, and unaccompanied children.
Recently, the program has benefitted from a generous donation from Joseph Tate and his wife Bernadette Tate, both Villanova Law grads, to fund the program's loan repayment program. This awards loan repayments to recent graduates working in the public interest sector.
This could help a student like Burrill, whose positive experience at The Nationalities Service Center reinforced her desire to pursue a life of service once she graduates. Working at the Nationalities Service Center "inspired me," she said.
As Krumenacker noted, the program provides another important purpose.
"It's where we find 'our people,'" Krumenacker said. The law school has a strong emphasis on the interconnection between business and the law, she said, and the student body largely reflects that interest. Through the program, she was happy to find a concentration of students with an interest in social justice and public interest law.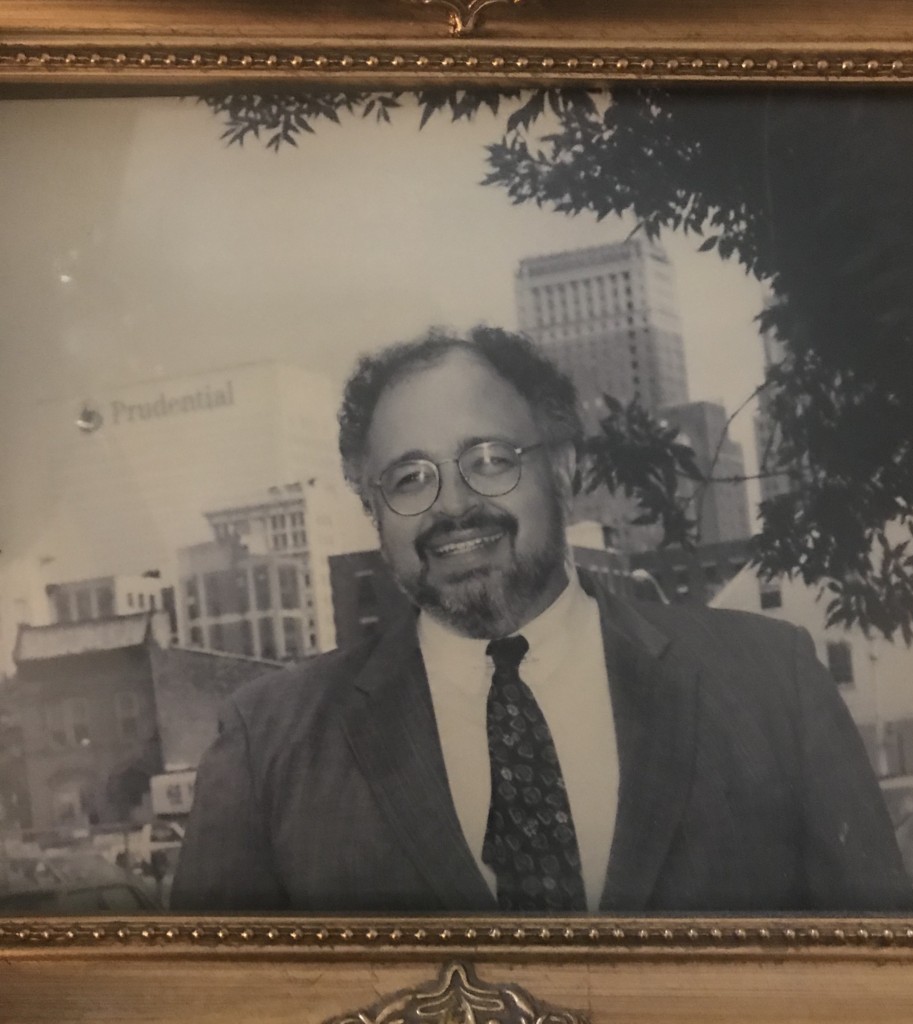 It brought me back to my memories of Walter and his friends when they were at Villanova Law in the late 1980s. There was no organized program then for students who cared about public interest law. Somehow, they found each other anyway and became fast friends.
Later, after Walter died, it was those very friends, led by Jane Lessner, Esq. and Stephen Walker, Esq., and that also included Peg Horn, Esq., and John Reilly, Esq., who would raise $50,000 among themselves and see to it in 2008 that the public interest law program at Villanova Law would be re-named for Walter.
I can't imagine a more fitting legacy for Walter. The students told me that it was an honor to meet me and an honor to participate in a program named for Walter. All proceeds from Saturday's 23rd Annual Public Interest Auction will directly fund the students' public interest opportunities.
What I want these student fellows to know is that it is my honor – and my pleasure – to see them do such good in the world.
If you are looking to donate to the program, please specify it's for the Walter Lucas Public Interest Fellowship Program, and go here.
Thank you.
— Kitta MacPherson