My friends in journalism had a good ole time with me last week.
I announced my relief Friday in a Facebook post that I had passed a challenging, multi-hour test certifying me to teach journalism, earning me a "CJE" (for "certified journalism educator") from the Journalism Education Association, a wonderfully supportive national industry group for teachers at the high school and college level. Amongst many kind congratulatory notes, serious snark from good colleagues arose. A test for journalism? They just about howled. "Test shmest," wrote one dear friend, an ace reporter in her day who now works as a highly successful communications executive. "How about a few decades of on-the-street experience entitling you to certification!"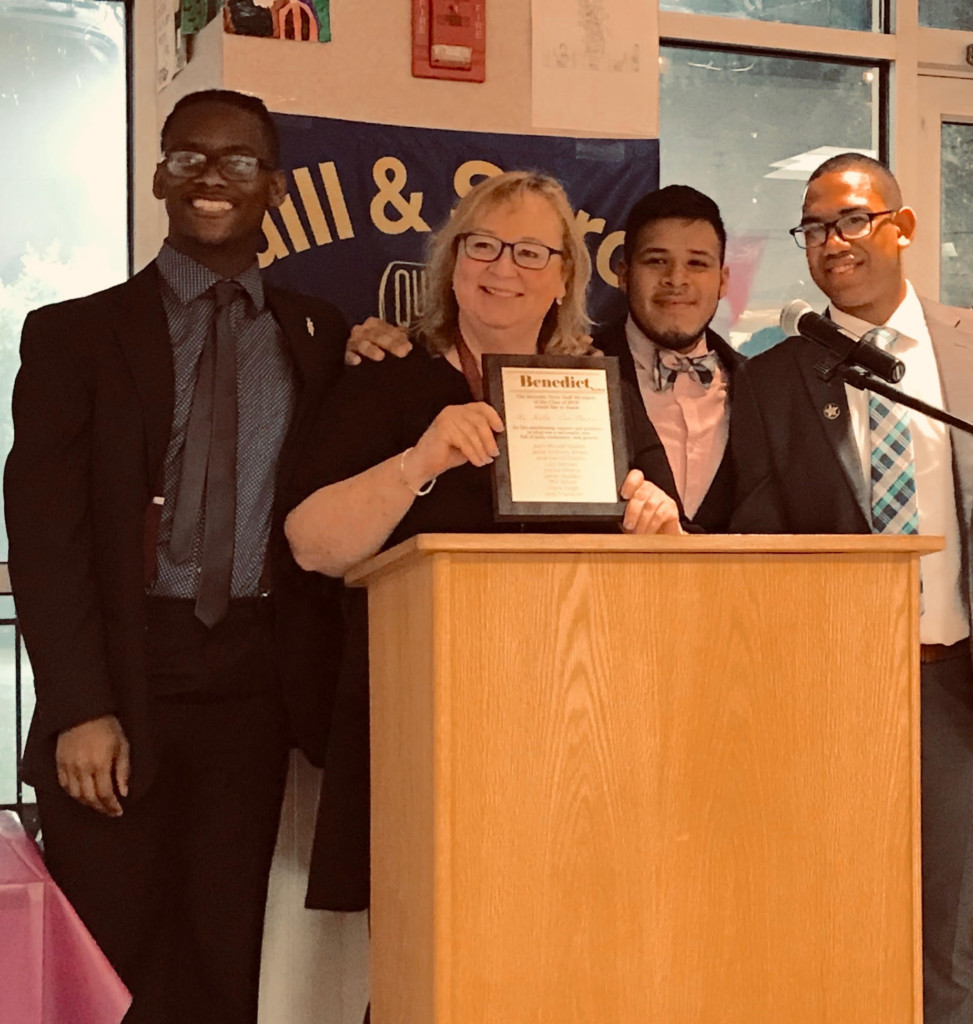 She and my many other friends had a point. The essence of journalism is truth-seeking, a quality that seems unquantifiable. It takes courage, persistence, spunk, and passion to do the job correctly. And, as many of my journalism friends from my happy newspaper days at The Star-Ledger of Newark will tell you, newsrooms are unforgiving. You all sit together and work together. Anyone can see who the hard workers are, meaning the ones who jump on stories, put in the hours, work the phones exhaustively, and care about getting it right. We were/are a talented, dedicated bunch. Their teasing comes from a protective sort of love – Who wouldn't let you pass, Kitta, on a journalism test?
There are many things I learned on the job at the Ledger, and before that, The Bergen Record, from my editors, colleagues, and sources. After writing tens of thousands of words for so many years, writing flows from an inner voice to the page without difficulty. People open up to me and tell their stories not because they are gullible – people are smart – but because I've worked to earn that trust. I aim to be worthy. And, the AP Stylebook and Strunk & White's Elements of Style are more than books to me. They are dear friends – dog-eared, marked up with comments representing insights earned from decades of stories on everything from a Paterson drug deal gone awry to a Princeton astrophysicist's deep-space discovery. I can understand and teach journalism ethics – probably my favorite topic to teach ever (thank you, Prof. Robin Gaby Fisher for hiring me in 2015 to create a new version of that course at Rutgers U.) – because I had to live and work through those decisions, aided and advised by some of the greatest journalists in the country. We often found that the best approach is not black or white, but gray.
But, while reporting, writing, and making good decisions may lie at the heart of journalism, teaching journalism now requires so much more.
For those not familiar with JEA's qualifying test, I had explained in my post that the exam assesses (via 70 fill-in-the-blank, short essay, and some multiple choice questions) knowledge of newswriting, ethics, First Amendment case law, copy editing, color theory, print and web design, staff management, photography, and videography. Color theory? Several of my friends could not get over that one.
In my current position as journalism teacher at St. Benedict's Preparatory School in Newark, N.J., a private, Catholic boys' high school, I teach intro and advanced classes, writing and grammar courses, and advise the staff of the award-winning student news publication, The Benedict News. I am responsible for overseeing the production of three to four newsmagazines a year, the constant updating of a student-run school news website with news stories, photos, and videos, and several social media sites. What kinds of skills are required? It's a far cry from my days at my high school and college newspapers when all we had to worry about was coming up with copy, headlines, and photos and rush them to the printer. And it's very different from my successful, multi-decade run at the Ledger.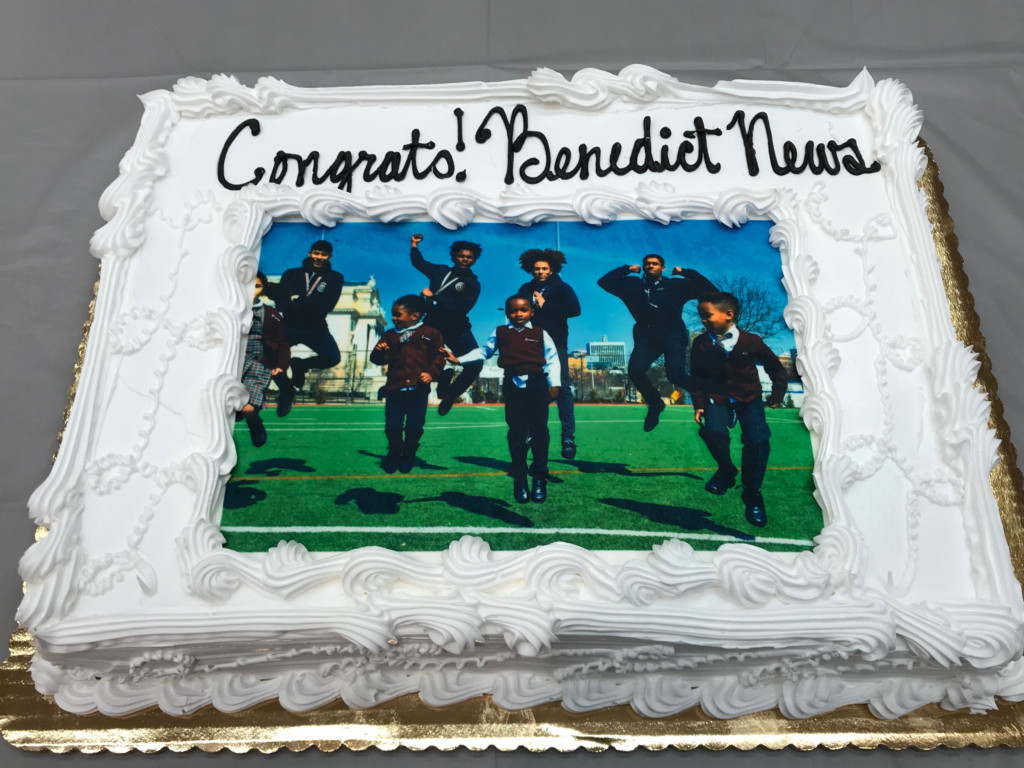 The principles of storytelling, accuracy, and adherence to grammar and style are as important as ever. However, there is much more to do. In the "newsroom" at St. Benedict's – a wonderful, wide-open classroom that doubles as a production center – we are fortunate to have a cluster of computers provided by the generosity of alumni. The machines are equipped with state-of-the-art Adobe Creative Suite software conveying resume-worthy skills for our students.
We don't print our newsmagazine, but we do everything else, from assigning, editing, and proofing to designing  layouts for dozens of stories, photos, and graphics. One publication this year was 60 pages. What does that mean for me? That means that, in addition to knowing about news and feature writing, as well as inspiring young students to the cause, I need to understand how to use several complex software programs, including InDesign (to lay out the magazine), and Premiere Pro (to produce videos.) And our website, benedictnewsonline.org, uses WordPress as its content management system. While I have plenty of help from student editors, I am ultimately responsible for everything on that site.
When I left my beloved newspaper in January 2008 – a personal tragedy drove me to want to change everything, from what I did for a living to where I lived — I was a nationally known science journalist headed to Princeton University to be its lead science writer. I was honored to "jump into the drawing," much the way the characters in the original Mary Poppins movie leapt into chalk etchings, in my case moving from writing about science to becoming part of the effort. But I had no idea how little I knew about the production end of media. We had never used laptops in the newsroom. We used not-so-smart, custom desktop devices connected to a mainframe located somewhere else in the building. When an editor at Princeton sent me an edited document, marked up in Word, I didn't know how to read it or return it to her. As crazy as it sounds now, I had to take a course at the University's computer learning center to come to grips with Microsoft's word processing program, Word.
It may help to understand that large news organizations, such as the one I came from, were for many years highly specialized places. The idea that I, as a writer, would ever take a photo or video to run in the paper or on its website was unthinkable. This was a time when newsrooms were loaded with silos. Reporters reported and wrote. Photographers shot photos. Designers designed. There was mutual respect, but no one entered another's area of expertise. It worked beautifully in that a person was expected to focus on the area representing his greatest talent. But such specialization cost lots of money. And with the business model failures of newspapers over the past decade or so, the metaphorical walls around those units have either disappeared or grown porous, with many journalists expected to shoulder multiple roles.
Princeton, with its highly nimble, smaller communications group, also used specialists in writing, photography, and design. But the management expected everyone to know more than a little about what others did. This was nearly a decade before today's era of "backpack journalism" – where everyone needs to know how to do everything. And, while extremely different from my newspaper days, it also provided excellent training for me.
Post Star-Ledger, in nearly a decade as a lead science writer and then communications executive at Princeton University, I went way beyond my comfort zone as a writer. I helped design, compose content, and build several websites. I crafted and implemented a communications strategy for several social media platforms. While I would never compare myself to the talented photographers I worked with for so many years, I did learn how to take passable photos and even wrote a script for an award-winning video. I media trained scientists.
What's interesting is that my main talent, reporting and writing, remained the same and what probably brought most value to the enterprise. But I had to learn everything else to survive and thrive. I am sure my experience mirrors that of many others who still work within the newspaper industry and those who have ventured beyond.
So, back to Color Theory. Why would a journalism teacher need to know about it? Publication Design is a big topic for journalism teachers because so many of us advise students on print products. (And, if you think print is dead, think again. Print is alive and well at high schools, where all forms of newspapers, magazines, and newsletters are wildly popular with students and alums.) Color choices, it turns out, have a big impact on readability of print materials and on how clear and enjoyable it is to navigate websites. If one were to create a list of basic design principles, color – a powerful visual force – would be a leading element.
And, beyond practicality, isn't it just fun to know stuff? For example, did you know that any color you see in any printed material is made from a combination of four colors? That would be what the design people refer to as CMYK — for cyan (blue), magenta (pinkish-purple), yellow, and key (black.) And every color you see displayed on a screen, be it a TV or a monitor, is made up of RGB (red, green, and blue.) I'm sorry, we simply don't have time to go into the color wheel and how the hues relate and vibrate. All I can say is that I now know way too much about analogous, complementary, triad, secondary, and tertiary colors!
As for the next challenge, I will be teaching "Podcasting 101' when school reopens in late summer, working with students on the latest audio craze. As with so much else, one must be knowledgeable about the basics of reporting and interviewing. What else? A good understanding of "Audacity," the best audio editing software out there, would help. I'm on it.
Yours sincerely, Kitta MacPherson, CJE
For those interested in pursuing certification or wanting to learn more, please look to this link:
http://jea.org/wp/wp-content/uploads/2013/10/JEACertComm_WhyConsiderCertification2013.pdf