In her quest to become a tech entrepreneur, Stacy Chin has been an ace at tackling thorny intellectual challenges, mastering everything from molecules to manufacturing.
But the 28-year-old founder of HydroGlyde Coatings, based in Worcester, Mass., admitted to being momentarily stumped recently when pitching her product – a new kind of self-lubricating condom – to venture capitalists.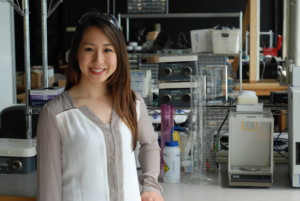 Femtech entrepreneur Stacy Chin attributes her success to backing by mentors and learning how to navigate conversations about personal products in a businesslike manner. (Photo courtesy of HydroGlyde Coatings)
"Being a young female scientist and going into that sexual healthcare space, it was definitely a little bit challenging to learn how to navigate during presentations and pitches when there were a lot of older males in the audience," said Chin, whose product is of special appeal to older women suffering from vaginal dryness. "I eventually figured it out, but it wasn't easy."
Chin is at the vanguard of a new generation of "femtech" entrepreneurs heading companies with names like LOLA Tampons, Prelude Fertility, and Peach, bringing once-taboo topics like menstruation, ovulation, incontinence, breastfeeding, pelvic pain and, yes, female sexual pleasure to the highest chambers of finance. These mostly female leaders of firms with products addressing women's health concerns are winning in a big way, raising about $1.1 billion in startup funds over the past few years, according to the New York data analytics firm CB Insights.
If the question is "Why now?", the answer may be that femtech leaders are benefiting from the current conversations around respect for women in the workplace, and long-term efforts to achieve gender equality in the male-dominated tech industry.
"We are definitely at a watershed moment for femtech," said Rachel Braun Scherl, a self-described "vaginepreneur" whose new book, "Orgasmic Leadership," profiles femtech leaders. "But we need to remember that femtech is an overnight sensation that is decades in the making."
In contrast with earlier and perhaps less successful generations of women in tech, these pioneers can point to mentors who are readily accessible, as well as more female VC and corporate heads they can directly address when making pitches. There's also a changing cultural landscape where sexual harassment is in the news and women who talk openly about sex in a business context can be taken seriously.
"Change is definitely in the air," said Kevin O'Sullivan, the president and CEO of Massachusetts Biomedical Initiatives, who sponsored Chin and has helped launch more than a hundred biotech companies in his home state since the 1980s.
Like a pinprick bursting a balloon, the #MeToo social movement and its focus on the prevalence of sexual harassment and assault is a factor in the success of femtech, some experts believe, provoking heightened awareness about the role of women in society — including equal access to start-up capital.
"If such a difficult topic is being discussed in the open, that means more and more people are speaking out and are no longer afraid about sharing their own concerns," said Debbie Hart, president and CEO of BioNJ, a business trade group she founded in 1994. "That's empowering the whole women's movement."
Observers like Hart say that femtech's advent is also due to a payoff from longer-term investments in a slew of programs encouraging girls to pursue STEM careers and women to be hired as leaders, as well as changing social norms to allow female health to be part of the public discourse.
The power of programs that allow young women to witness successful older women in leadership cannot be overstated, according to Susan Scherreik of the Stillman School of Business at Seton Hall University in New Jersey.
"What I have found in entrepreneurship is that it's all about two things: role models and mentoring," said Scherreik, director of the university's Center for Entrepreneurial Studies.
One of Scherreik's top students, Madison Schott, is convinced that the availability of female mentors has been instrumental to her success and will remain so in her future. "It definitely is very encouraging," said Schott, who won the "Pirates Pitch" university-wide business start-up competition in April for an app she is developing that uses AI to guide readers to reliable news sources. "Woman to woman," she added, "you can be more open when you have questions or problems."
While femtech entrepreneurs may be the beneficiaries of change, they also may be its agents. Scherl, the author, who has been working in the female healthcare sector for more than a decade, believes in persistence. In 2010, organizers of a major awards show banned a product she was marketing, Zestra Essential Arousal Oils*, from a gift bag for honorees. Two years ago, however, times changed and femtech prevailed. The company making goodie bags for Academy Awards nominees included another one of her products, Nuelle's Fiera, a $250 vibrator.
"We come from so many different perspectives when it comes to sex, whether it is cultural, religious, age-related, or even from a trauma, so we never have created a common language," Scherl said. "But we in femtech are making huge progress. We are not only selling products now, we are selling conversation, and we are selling a comfort with sexuality in all its complex forms."
Published with permission: "Femtech", June 7, 2018 Leapsmag.com, Photo courtesy of HydroGlyde Coatings