My short story, "El Balo," will appear in print in the May/June 2017 edition of Down in the Dirt magazine (v143, released 6/1/17) and can be accessed online here:
http://scars.tv/cgi-bin/framesmain.pl?writers
(Find my name, "Kitta MacPherson," among the writers' list alphabetically organized on left, and click on it. Then click on "El Balo" under my name.)
The story is inspired by the life of a person I knew who grew up in the mountains of Vera Cruz, Mexico, in the middle of the last century. I also wanted to honor the custom of child heroes, a theme that runs deeply throughout Mexican culture and lore.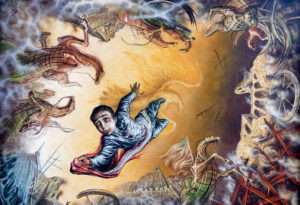 The praxis of child heroes is threaded through Mexican tradition. This Gabriel Flores painting on the ceiling of the Castillo de Chapultepec depicts the Niños Héro or Boy Soldier Juan Escutia plummeting to his death while defending the castle from invading U.S. forces in 1847. He wrapped himself in the Mexican national flag and leapt to his death to keep it out of enemy hands. The Niños Héroes are commemorated by a national holiday on September 13.